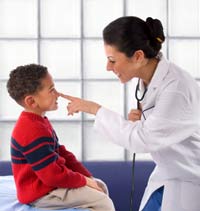 The Buffalo River Clinic, SC is conveniently located on Highway 10 across the street from McDonald's restaurant in Osseo, WI. Our hours are 9:00 AM to 5:00 PM Monday through Thursday and 9:00 AM to 12:00 noon on Friday. Call ins & walk ins are always accepted and time is allotted in the Dr.'s schedule to accommodate these on a daily basis.
The clinic cares for people of all ages with an emphasis on preventative medicine. We enjoy a distinct and rather unique position in being the only independent clinic in the Osseo area. Because of this we are unencumbered by large corporate interests with their attendant high administrative costs. We are able then to pass our overhead savings to our patients. This becomes especially important to our private pay and major medical coverage patients.
We also belong to the Oak Leaf Medical Network. Our association with them provides us with acceptance by most of the major health insurers. When people require more specialized consultation we work closely with the physicians at Luther Middelfort (Mayo) Clinic in Eau Claire, Marshfield Clinic, and Sacred Heart Hospital in Eau Claire.